A downtown Nanaimo business is trying to stay positive after their insurance will only be paying for their broken windows and not their lost items.
Red Shelf Decor was broken into last Monday morning at around 12:15 am. At first, just the front windows were smashed, but someone returned at around 4am to smash the front door.
Steven Johns, owner of Red Shelf, says they stole a few things from the front window the first time, and in  the second robbery they stole ethnographic and costume jewelry.
"They probably thought they were stealing fine antiques," said John. "They're probably gonna just take it to pawn shops, either in Nanaimo, Vancouver… But probably Vancouver."
Despite the breakin, the owner and his one employee are trying to stay positive.
"It's a bad experience, but we can only build from it. The public are really supporting us. They're really on our and you just can't let it get you down," said Johns. "This is tough, it could happen to any city on any given night and it happened to me, but it hasn't happened before. I'd say to other shop owners [if they get broken into], stay positive and try to work through it. Try to find the positives in all of it."
Johns told My Coast Now their insurance will not be covering the cost of anything other than the smashed windows.
The store is expected to reopen on Friday, with a sale called the 'we got smashed, so you get to grab sale'.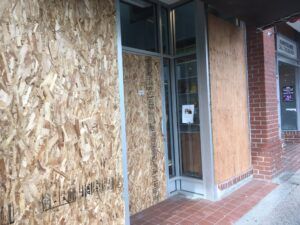 "Nanaimo is an awesome city and we have an amazing downtown and bad things happen, but we gotta push forward," said Johns. "We can get knocked down, but we're gonna get up again and we'll be back next weekend."
In October of 2022, Red Shelf won gold on Nanaimo CommunityVotes, a platform where people vote to recognize stand-out businesses in the city.