Multiple schools in Nanaimo were under an order of hold and secure earlier today, following a report of a youth with a weapon.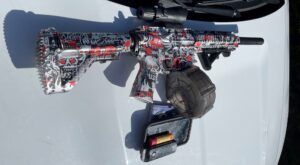 Just before noon, police received a report of a 14-year-old pointing a gun at passing vehicles around Departure Bay Road. That prompted a police response and forced a hold and secure order at three schools. The nearby Wellington High School, as well as Rock City and Departure Bay Elementary schools, were affected by the incident. 
The hold and secure lasted for around a half hour before the young suspect was located at a home in the area and the firearm was determined to be an airsoft BB rifle. They were arrested for Possession of a Weapon for a Dangerous Purpose. The investigation is still underway. 
Nanaimo RCMP Reserve Constable Gary O'Brien says, "This was an extremely tense and dynamic situation that could not have been resolved as quickly as it was without the cooperation of the general public and the schools involved."