A Nowruz celebration helped ring in the new year for Iranians living in Nanaimo.
The Iranian Canadian Cultural Society of Vancouver Island held their celebration at VIU's Malaspina Theatre yesterday evening from 5pm to 8pm.
It featured art, speeches, singing, and food. It was the first time the society held their celebration.
The society hoped to bring Iranians together.
"I think for a lot of Iranians abroad there's a lot of distrust which is sort of a natural result of living under the Islamic Republic in Iran," said Director Amir Razaghi. "The regime created a lot of division among people and a lot of fear. And so even when people moved abroad there was still a lot of distrust in the community. You didn't have that kind of cohesion the same way that you have in a lot of other communities, but I think the recent 'Woman, Life, Freedom' movement woke everybody up, including myself."
The society has been advocating for the Woman, Life, Freedom movement, having started by doing protests on Commercial Street to bring awareness. Art at the celebration regarded the movement, with multiple pieces of painted art on display.
"The reason we started the society was that we wanted to be beside our people in Iran who are fighting for their rights, especially the women who were suppressed for so many years," said President Tarane Noruzi. "But after Mahsa Jina Amini was brutally killed by the morality police in Iran, everywhere in the world, Iranian people started to protest for human rights in Iran and in Nanaimo. We wanted to stand by our people and amplify their voices."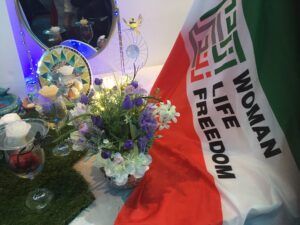 Norzui says as a woman, becoming the president of the society is meaningful.
"In our small group people think that I'm capable enough as a woman, and that really gives me a good feeling that in the past, even right now in Canada, women are not considered to be capable of doing so many things. But right now I have the opportunity because actually, um, things are changing in Iran, and it's affecting here too."
Norzui also sang at the event, being an opera singer as well.
The celebration drew a large crowd to the theater, some of which were not Iranian. Razaghi said they had around 20-30% of people sign up who were not Iranian.
"We are a small community here in Nanaimo, the Victoria community I think is a little bit bigger. It's a good opportunity, really," said Razaghi. "I mean, in Vancouver, [there are] more Iranians. But it's kind of a little bit of a different set up here because you're kind of closer because there're fewer of you."
Nowruz is an event comparable to Christmas, according to Noruzi.