The Prime Minister was in Nanaimo today (Fri) where he spoke to a full house of about 1600 people in a town hall style gathering.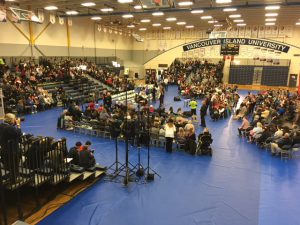 Tops on the agenda for a couple hundred protestors who stopped him several times to yell about their cause, however, was the federal government approval of the Kinder Morgan pipeline.
JustinTrudeau tried to explain his plans to protect the ocean…..
Four protestors were removed from the assembly, then Trudeau explained approving the pipeline was a balance between the economy and the environment.
Brian Senft with the Dogwood Initiative says the pipeline is a ticking time bomb and when it goes off, BC will suffer….
Trudeau spent well over two hours answering a variety of questions ranging from affordable housing, barriers to accessibility, NAFTA, residential schools, fish farming, drug prices, the opioid crisis and the summer jobs values test.