Nanaimo RCMP are asking for help identifying two women who shoplifted from Sally Beauty.
It was at the North Nanaimo location on the Old Island Highway on January 21st.
Their press release reads, "Police attended to the business and spoke with an employee who said that the two women entered the business just before 4 pm, selected a number of items which included a blow dryer and hair products, then left without making any attempt to pay for the merchandise."
Police have received security camera footage of the two but haven't gained any leeway in their search for the suspects.
They are both white, in their mid-twenties, and one had bright pink hair.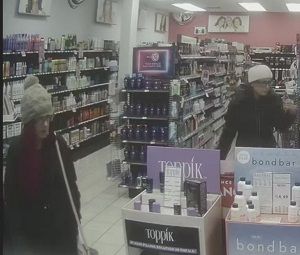 Anyone with information is asked to contact Nanaimo RCMP on their non-emergency line 250-754-2345.