The developer of a proposed rental housing project in the south end is looking for input from Nanaimo residents.
Plotted for around five or six years from now, a wooded area at 101 South Street is to be developed into housing made up entirely of rentals.
"The homes and the designs and the types of housing that we're looking to provide is going to be solely based on the input from the community," said President of Top Down Investments, Guy Bouchard. "Right now, some of the concepts we have range and vary from town homes to multi-family units."
At the moment, the neighborhood is purely conceptual.
Last Friday, the developers ran a community 'open house' where residents could ask questions, provide their own ideas, and talk about what they wanted to see for the new development.
Residents put in various suggestions like EV Chargers, underground parking, and making the buildings look more like the ones around them rather than modern designs. 
It's planned that one area will be an industrial zone with self-storage, light bay industrial distribution, and a multi-use building. The larger parcel of land is plotted for the rental homes, and some commercial/residential.
At the moment, every single home is plotted to be rental-only, with no options to buy. However, everything is up in the air due to the development still being in the concept stage.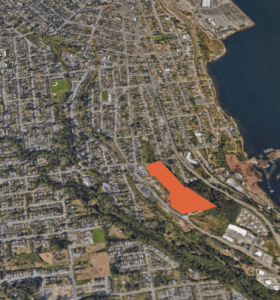 "What we feel is happening in the market is that there's a clear missing middle in the housing and that's for small families. So purpose-built multi-family residences are needed but they only service a certain demographic and that's either singles or couples or extremely small families. Then you've got home ownership and what's happening is a lot of families that are in the rental market are being displaced from homes— because people are moving into their own homes, or moving their own family members in," said Bouchard. "Purpose-built rental townhomes is something that was built in the eighties. Doesn't really happen anymore, hasn't happened for a long time. So that's really a key piece to this master plan, [which] is to have a community where we have multi-generational housing focused on small families."
He says it's hard to predict how much rent will cost, given the project is still far into the future.
"We can't mention what's gonna happen, not [even] in a year. This rezone process is likely gonna take one to two years with the City of Nanaimo. Once that's approved— and if it gets approved for the design that we put forward— then we've got another year, likely to 18 months for the development permit process. We're probably about three to four years away from even getting shovels in the ground for this."
He says chances are the first product type might come to market in the four to five year range. Bouchard adds during this process, they're hoping to garner community support or interest to expedite the process.
More information on the project can be found here, alongside the ability to add opinions as to what should or should not be done with the area. The survey will remain open until March 23rd.