Nanaimo RCMP are looking for more info from the public about a fatal stabbing over the weekend.
Yesterday, at around 7pm, EHS, fire, and police responded to a report of an individual who walked into the Port Place Mall with a stab wound.
The individual was given first aid by witnesses and first responders before being transported to the Nanaimo Hospital where he was pronounced deceased. Later, an adult male was arrested in connection with the stabbing and taken into police custody.
"As the investigation is only in the preliminary stages, it is too early to say what if any relationship existed between the victim and suspect. Police can though say with confidence, that they are not looking for any other suspects and there is no further risk to the public", said Constable Gary O'Brien of the Nanaimo RCMP.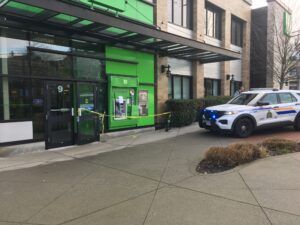 Various employees at Port Place allege the victim was a security guard. Some believe he was stabbed at TD Bank, then walked to London Drugs before collapsing.
Anyone with information or dashcam footage of the incident is asked to contact the Nanaimo RCMP on their non-emergency line at 250-754-2345, and quote file # 2023-2530.