RCMP are looking for a person who stole a speaker system from a store in North Nanaimo.
The theft happened just before 11 am on Monday at Best Buy in the Country Club Mall.
A caucasian woman grabbed the JBL Party Speaker and walked out, making no attempt to pay for the item.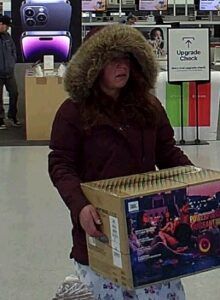 "The suspect appears to be a Caucasian woman wearing a red winter parka with a furry hood pulled up, and wearing white checkered pants," says the RCMP release.
If you have any information you're asked to contact Nanaimo RCMP on their non-emergency line at 250-754-2345, and quote file # 2023-921.