A couple of gig workers joined government workers on Vancouver Island University campus to have a roundtable discussion about what their jobs entail, and what employment-standards-related changes they would like to see.
The two gig workers spoke to the Parliamentary Secretary for the New Economy, Adam Walker, Advisor Raunaq Singh, and Director of Planning & Priorities John-Micheal McColl.
Instacart worker Shari is a retiree, and her rate of pay depends on how many items she picks up for customers.
"I would recommend it to some of my friends who are looking for a part-time gig," said Shari. "I would not recommend it if you are looking to have full-time employment, it's definitely something that should fit into your lifestyle as far as the flexibility goes."
She suggested there should improvements in safety for gig workers, such as making sure the place they're going is safe and well-lit.
This desire was echoed by food-delivery worker/student Alex, who shared stories of trying to find homes in the dark, as well as the complications with figuring out how much he'll get paid.
"People always think we work as independent contractors, and we could gain more money," said Alex. "But we can't make that salary- say my salary is lower than the minimum wage on week days. During the weekend, my salary will be higher than minimum wage, but not too high. I think there is an algorithm calculating my income. Uh, so I tried to figure out the algorithm for the SkipTheDishes or for Doordash, how they calculated our income. If that cannot be transparent I think it will be a potential risk for people who work for the gigs— who work for delivery apps."
As both work on the island, the more spread-out nature of Nanaimo and other towns also affects their deliveries compared to places like Metro Vancouver.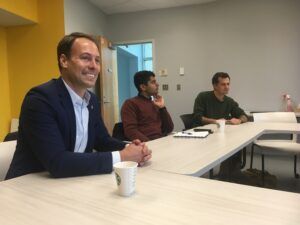 The roundtables are happening across BC, with a few done in Victoria and Kamloops already. Today, they will be in Parksville. Later, they will be in Prince George and through the lower mainland.
"I think what we're hearing is a desire from workers to maintain that flexibility," said Adam Walker. "We're hearing all sorts of different, different perspectives that gig workers have, but they very much appreciate the flexibility. We're hearing from workers that are working for less minimum wage. We're hearing from workers that are injured on the job and don't have the protections that they deserve. We're hearing from workers that have been deactivated— especially ride hail drivers— who take a significant investment on a new vehicle are deactivated and lose their only source of income and have to still keep paying that, uh, those high lease payments."
Walker said it was important to hear from multiple different perspectives during the process.