The Nanaimo Night Market has ended for the year, and vendors are looking forward to the next one.
The last fair saw a lot of people show up, almost as many as the first.
"It's been great" said Deborah Macintyre, retiree and owner of Deb's Dangly Bits. "This has been the best market— better than any other market that I've been in this year. I've also been to the Parksville market, and this one far surpasses it. So organized, great entertainment, it's a really great market."
Overall, it seems most of the vendors were happy with the business the market brought to their stalls.
"It's been really busy," Red Shelf Decor antique dealer Steven Johns said, "but also a lot of fun and really high energy. Great for Nanaimo, and great for downtown."
Johns also complimented the Chamber for their ability to organize and set up the market.
In the meantime, other events will draw stalls to set up, such as the upcoming Wellness and Spirit Fair this September.
The Night Market closed off with a few acts from street performers, seeing stunts from Akron the Barbarian, as well as dance moves from an America's Got Talent duo.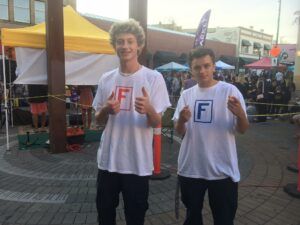 Funkanometry returned to Nanaimo after a while in Los Angeles, and danced for the Night Market's last run. They also sold merchandise and met fans at their own booth.
After being in LA, they were happy to come home and see family, friends, and fans.
"To be honest, we were there for a little bit long, it's like, I've missed my family, being in Canada," said Carlow Rush. "Being in LA is dope, we definitely had some time to just chill, but we're back on the grind."
"I could definitely get used to it over there," added Jacksun Fryer, "but I'm used to it here and I love it here, so… It's not that bad to come back home, for sure."
They don't anticipate leaving Nanaimo soon.
They encouraged fans to comment on the America's Got Talent's judges' social media pages, and to vote for them to get the Wildcard if they want to see them back on AGT.