FortisBC has had rate changes approved by the British Columbia Utilities Commission.
Residential customers on Vancouver Island will see an overall annual decrease of about 15 per cent or 85 dollars.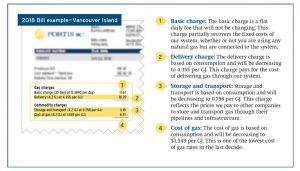 The Utility says there is no mark up on natural gas, the customer pays what the company pays.
2018 marks the first year where customers will see common natural gas rates across the province, following a three-year phase in that was completed in 2017.
This will result in customers paying the same for natural gas regardless of where they live in B.C.