Update:  Media rider Hilary Eastmure tells us fellow Nanaimo rider, RCMP constable Mihai Illioi has also had his locks trimmed…
He followed suit in Ladysmith Monday night, after challenging the guests the community's Red Serge Dinner to come up with 25-hundred dollars.
From September 28th:
The Tour de Rock headed through Nanaimo Monday, to start the southward swing of their 1-thousand kilometre journey.
RCMP Constable Mihai Ilioi and Coast FM's Hilary Eastmure,  are the only Nanaimo riders on the tour this year.
News Director Sean Eckford caught up with them at Maffeo Sutton Park, where Hilary got her long hair cut off to make wigs for cancer patients.
Before: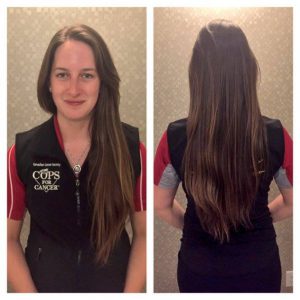 Step 1: There goes the pony tale!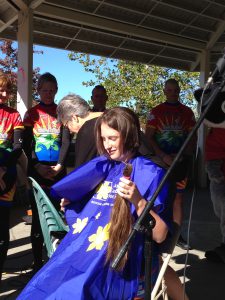 Hilary and her junior rider Natalie after the final trim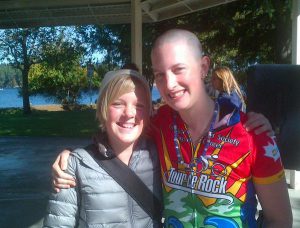 The Tour de Rock has a Red Serge Dinner planned in Ladysmith tonight.
There are other event details here
The Tour wraps up Friday in Victoria