Officials from the province and the Sechelt First Nation faced the heat over a proposed dock management plan for Pender Harbour at a public meeting this weekend.
The plan is being created jointly by the province and the Sechelt Nation, and could end a decade long moratorium on new dock leases.
But, a draft sent out earlier this spring sparked a controversy over restrictions and the role of the SIB.  That controversy was on full display during a public meeting Saturday.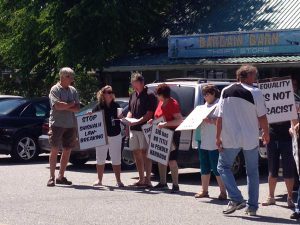 The Dock Management Working Group sent a petition to the legislature early this month, and they want at least a dozen changes.
Bill Charlton spoke for the group at the meeting.
Nicholas Simons is the MLA for Powell River Sunshine Coast.  He says the way the province handled the issue is partly to blame for the anger in the community.
The deadline for comments is June 24th, and the province is promising to give them full consideration before a final plan is released.  The plan is expected to go into force in the fall.