Nanaimo RCMP are asking for the public's help identifying a man they say took several hundred dollars from the till at the Westwood Campground.
It happened early Monday morning.
RCMP say security cameras caught the suspect riding into the campground just before 6am on a dirt bike… which was later reported stolen from 4th Street.
He was wearing a full face helmet covered with "Rockstar" and "Fox" stickers.
He walked into the office, forced open the till, grabbed the cash and rode off on the bike. It took less than 5 minutes.
The man is white and in his late 20s
He was wearing blue jeans and a green or grey hoodie. The bike is a yellow 2015 Suzuki.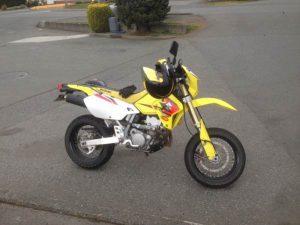 If you have any information on this crime, please contact the Nanaimo RCMP at 250-754-2345, Crime Stoppers at 1-800-222-8477, text 274637, keyword Nanaimo or go online at www.nanaimocrimestoppers.com